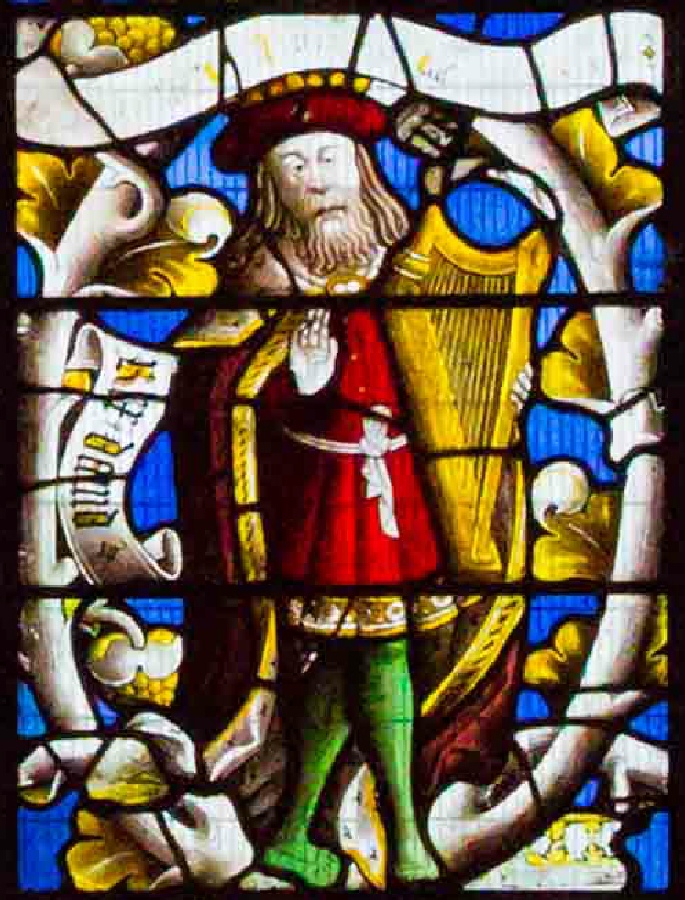 As one of the most important figures in the window, David occupies the central position and is shown as a complete figure (most of the others are demi-figures - without legs). His title of "Rex David" (King David) is shown on a scroll to his right, and as the psalmist, he is shown carrying a harp.
The figure of David shows the use of a number of sophisticated techniques by the glazier, particularly in the use of the colour red which was especially difficult to achieve.
DAVID is the last of Jesse's son's to appear before Samuel after being called from keeping the sheep. He is described as handsome having a ruddy complexion and beautiful eyes! And it is David who is chosen and immediately anointed. A number of stories have arisen around David, including the story of defeating the Philistine champion named Goliath with a single sling shot. He was also reputed to be a musician, playing the harp, and to David is also attributed nearly half of the Book of Psalms. But although David is Israel's greatest King, he was known to have behaved badly at times. This bad behaviour included a disgraceful incident with Bathsheba, another man's wife. This story can remind us that great people of the past were human beings like us and fell short of God's glory. It also tells us that the Bible can be brutally honest about its heroes of the faith.
In the window the 'root of Jesse' leads directly to David. Bishop John Davies